---
Cool and Funny Sayings
Amusing sayings, humorous quotes, funny proverbs, phrases, slogans, smart remarks for any occasion, witty wisdoms for fun and reflection.
Part 1
|
Part 2
|
Part 3
|
Part 4
|
Part 5
|
Part 6
|
Part 7
|
Part 8
|
Part 9
|
Part 10
|
New
---
My neighbors are listening to great music. Whether they like it or not.
---
It is important to make breaks between individual exercises. I personally stick to breaks of about 3-4 years.
---
I don't hate.
I 'whatever'.
---
Once I started to read between the lines, I realized that all books were really the same.
---
Are you unhappy? Are you alone? Fear not, the light is always on for you in the fridge.
---
Sometimes I drink water - just to surprise my liver.
---
Funny offence:
I think your parents shouldn't have built the swing that close to the wall.
---
How to part in style after having a row with your friend:
-
"I hope your pillow is warm on both sides in the summer!"
---
"If I wanted to commit suicide, I would climb up to the height of your ego and jump down to your IQ level."
---
It's amazing how nice people are to you when they know you're going away.
---
First rule of Sundays:
If you can't reach it from your couch, you don't need it.
---
The last thing I want to do is to hurt you.
But we'll get there eventually, once I've gone through the entire list.
---
According to my mirror I am pregnant. The father is Nutella.
---
... and out of the chaos, a sentence came to me:
"Laugh and be happy, it could be worse!"
... and so I laughed and was happy and it really became worse.
---
If you had to decide between a diet and a piece of chocolate, would you prefer dark, white or milk chocolate?
---
Organized people are simply too lazy to search for stuff.
---
Every time a bird craps on my car, I go out on my terrace and eat some scrambled eggs. Just to show them who's the boss.
---
You may have one but that doesn't mean you have to act like one.
---
Need something cool to say because you just slipped and fell?
"Yep, gravity still works!"
---
I read married couples do it about 74 times per year. It's end of November now. Seems I'm going to have a seriously exciting December!
---
My relationship is like an iPad.
I don't have an iPad.
---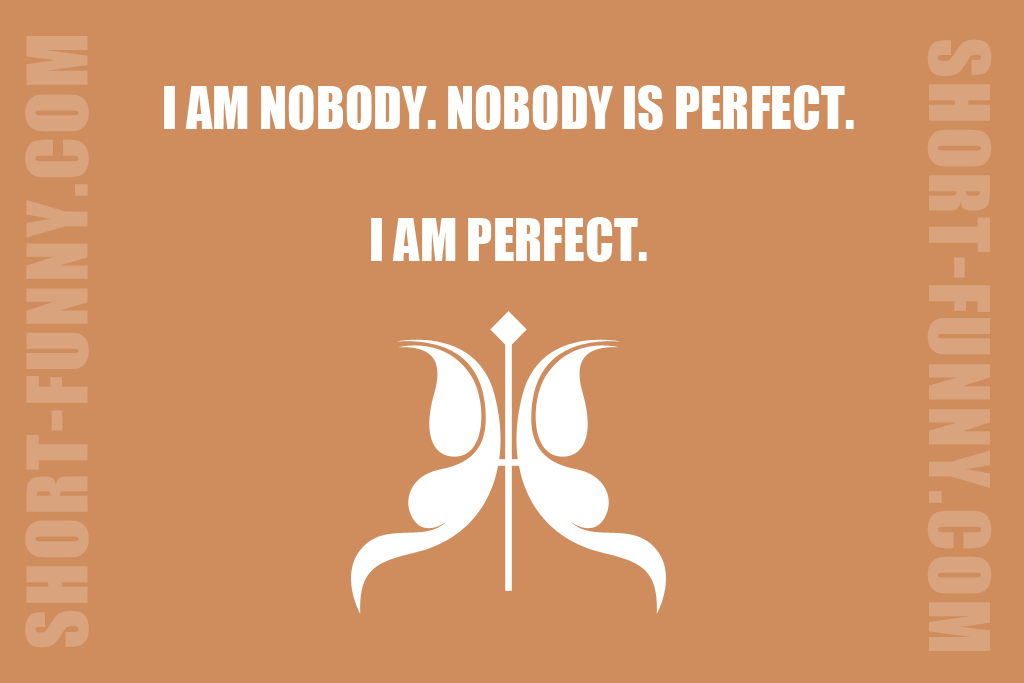 ---
Somebody said today that I'm lazy. I nearly answered him.
---
I'm on a strict seafood diet.
I see food, I eat it.
---
I never do the same mistake twice.
I do it six or seven times, just to be sure.
---
What not to say when you get pulled over:
Police officer: Papers.
Driver: Scissors.
---
Any of us has the capacity to light up a room. Some when they enter, others when they leave it.
---
Always end up phone calls like this: I have to run, the swing is free now.
---
There are people who are a living proof that total brain failure does not always lead to physical death.
---
When somebody doesn't understand something:
I'm sorry, I have neither the patience, nor the coloring crayons to explain this to you.
---
I was sexually harassed at work by my boss. But I don't really mind. I'm self-employed.
---
Finally, the spring is here! I'm so thrilled I wet my plants.
---
If you're having a bad day, remember some adults wear braces.
---
Next PartFunny Sayings

Part 1
|
Part 2
|
Part 3
|
Part 4
|
Part 5
|
Part 6
|
Part 7
|
Part 8
|
Part 9
|
Part 10
|
New Sayings
---