---
What's the difference between a lion and a shark?
None, except for the lion, they're both sea animals.
---
Peter says, "I can't hear you, Michael!"
-
Michael responds, "I can't hear you either, Peter!"
---
A wild hog runs around a corner and steps on a cookie.
---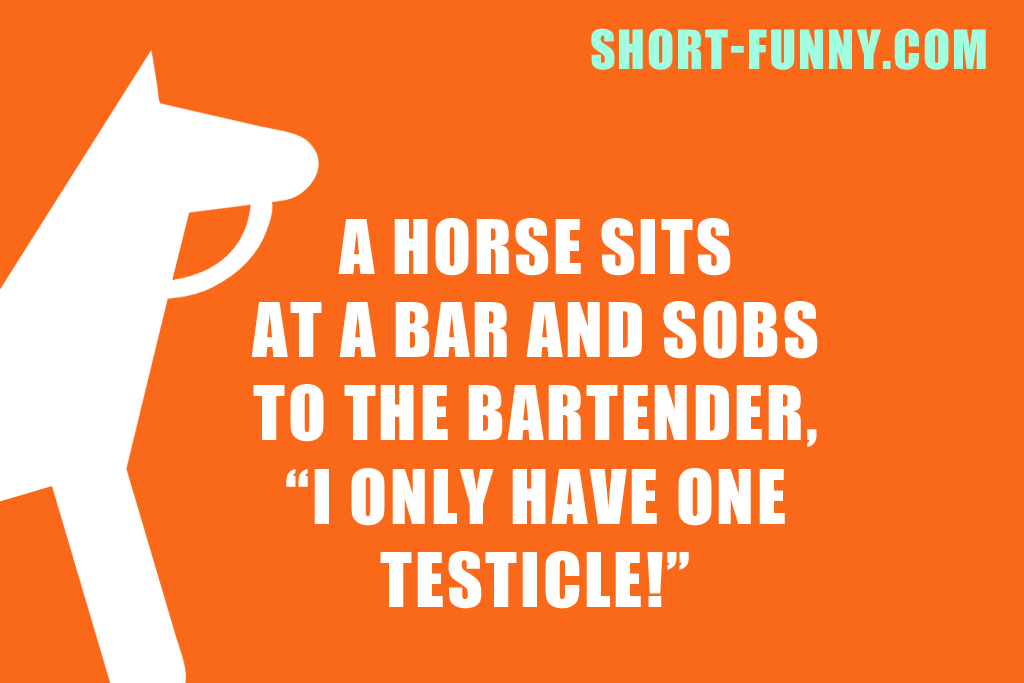 A horse sits at a bar and sobs to the bartender, "I only have one testicle!"
---
What is green but turns red?
-
A frog in a mixer.
-
What is green and stays green?
-
A super frog in a mixer who runs so fast it is never caught by the blades.
-
What is green and turns red?
-
A super frog that stumbles.
---
A guy wants to go shopping. He locks his bike onto a light post and when he comes back, the light post is gone.
---
What sits on a tree and goes, "A-haaaaaa, a-haaaaaa"?
-
An owl who just had a major realization.
---
A man walks into a small convenience store and asks, "I'd like a pound of milk please".
-
The shop assistant says, "Milk is measured, sir, not weighed."
-
The man replies, "Ok, then give me 7 inches of milk."
---
Do you know the joke from the second floor?
-
No, I live on the third floor.
---
A chicken frowns at her brood, "If your father could see you now, he'd turn over on his rotisserie!
---
"Two hunters go in a forest. One shoots the other in the eye and says, "Don't you look at me like that!"
---
Two piles of poop are sitting on a wall, playing cards. A diarrhea comes by and asks, "Can I play with you?" One of the poops replies, "No, you're not tough enough for that."
---
Two candles meet.
-
"So what you are up to tonight?"
-
"I'm planning on going out."
---
One cow remarks to another, "Mooooo."
The other looks at her, "Can't you see I'm eating my yogurt here? Leave me alone!"
---
A toast goes up the stairs, and then he remembers that he can't walk and falls back down the stairs.
---
A mute says to the deaf, "The blind are watching us."
---
One fart says to another fart, "You stink."
-
The second fart replies, "So do you!"
---
Two guys are catching up, "You know what happened? We had this really good roofer, awesome guy, got run over by a car last week. Really sad."
-
His friend shakes his head, "Wow. You'd think you'd be safe up on the roof…"
---
A guy says, "Sorry, I can't hear you, I have a banana in my ear." The other guy replies, "Sorry, I can't hear you. I have a cucumber in my ear."
---
At a barbecue.
One sausage says to another, "Oh my god, I think you're burning!"
---
What's jumping from tree to tree?
-
A pack of gherkins.
-
Wait, that can't be right!
-
Of course not. Gherkins aren't pack creatures.
---
A guy wants to chase away four birds that are sitting on his roof. He throws little stones at them and shouts: "Shove off!!"
-
One bird replies: "Please ask us again at around 5 or 6 pm."
---
What is the difference between a man and a toothbrush?
None. Both are hairy.
---
You know it's raining when you go out and you get wet.
---
Two cigars are walking down the street. One of them asks, "Hey, have you got a lighter? I'm in the mood for smoking."
---
At a job interview:
Hi, I'm Peter, and I brought a hair dryer with me to melt the ice between us.
---
On a first date:
"So, what is your profession?"
"I copy keys."
"Really? What are they doing?"
---
An apple comes home and sees a pear on the couch. "I have a good life," says the pear.
---
Two skyscrapers are sitting in a storage room. What's wrong with that?
-
They accidently locked themselves in.
---
Next Part 2 Best Anti Jokes

Part 1
|
Part 2
---